Welcome to Our New site
Home Page
**Welcome to D&DGoldens****Puppies due in September*********Check our Puppy Page************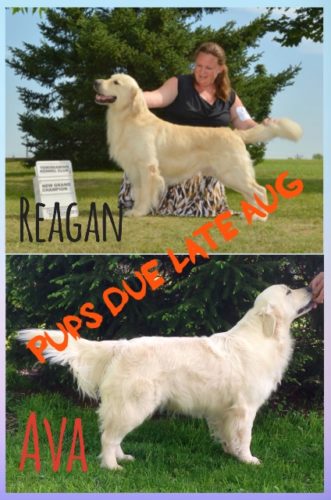 Hello and welcome to D&D Goldens website. We are a small family run kennel in Lincolnton, North Carolina. Our Goldens are from some of the best lines in Europe. Our full English imports from the Thevenet Kennel in Barcalona Spain, Thevenet QuarterMaster General, Deuce and Thevenet Memorias De America, Starr (retired), along with Princess Isabella Smith-Roman, Izzy an American Golden are the foundation of our Kennel. D&D Koa Kanunu, Mojo and D&D Heartbreaker, Ava are full English with full Spanish lines. D&D Dutchess of Cameo, Pippa is a English/American mix. Our new outstanding young males Charlie and Chomps and females, Shea and Cocoa the butter girls are our future to continue our great pedigrees and quality puppies. Max and Bear our American Goldens ( males ) are retired. Scarlet has recently been retired. Merlin (male) and O"Rhine( female) are also in the retired pups. They would like to invite you to see them as a pack and to take a glimpse into their lifestyle.
Breeding Golden Retrievers is our passion, through selective breeding, with choice Stud's and Bitches, we believe in the quality of our puppies. We only have 2 to 3 litters a year, and only 1 at a time, we are about quality, not quantity. Our dog's live with us, they are part of our lives and family. They share our house and I have to confess sometimes our beds. We don't use kennels or cages, our dogs have free run of the yard and live together year round. Above all they give us great happiness and laughter. In turn we give them total devotion and love that they are entitled to. We, take into account the individual personality of each one and making sure that they have a serene and balanced life. Each one of our dogs have OFA, CERF, Pinn hipp or BVA certifications. These are Hip, Elbow, Eyes and Heart clearance that no Golden should be without. Also we have started checking for PRA and PRA-1 and Icthyosis.These are rather new test for the eyes and a skin disorder. As a responsible breeder we will not breed any golden that does not have the same certifications. Because of our screening we fill that we can offer a health guarantee, so a 2 year Health Guarantee for hips,elbows,heart,and eyes on each pup .
When the puppies are born — It's the same story Of course, it is not an easy affair. After having paid a lot of attention and care to mom in order to assure that the puppies are healthy and strong at birth. We feed mom a special diet to ensure the health of the mother and the puppies. We want to insure the natural gifts of this marvelous breed are healthy and try to reduce any possibilities of genetic defects. The birth of our puppies is always celebrated with huge enthusiasm all around. Our puppies are born and bred in our home and each one being a lucky recipient of a greatest amount of love, care and attention on behalf of our entire family and friends. Socialization of our puppies start from the first day of their birth and continues through their adoption to their new family.
Our goal is to breed healthy, well balanced retrievers for everyone to love and enjoy. Remember a puppy will be around to love for 10 to14 or more years, so be sure you are ready to devote the love, care and the human companionship this breed needs and thrive's on. They will be the love of your life.
Please if you are a Teacher, Nurse, Police,someone with Special Needs or just someone who wants to do Therapy Work give us a call. We will work with you to get the puppy you need.
We are not a Puppy Mill. We have 2 litters a year. If you are interested in a D&D Golden Puppy be prepared to wait. We do put you on a list so if you are interested please call.
Please call and come see our dogs, we love to show them off.