Maxamillion Gold Smith
Sire: Hilltop Seasons Extravaganza (8-04)
Dam: Seasons Golden Jubilee (12-02) Ofa A25G OfeL25 Lt
Whelped: 9/26/2005
Max is our American Golden. He has crossed the Rainbow Bridge at 14 yrs. young. Rest my buddy until we meet again. You are missed and very much Loved.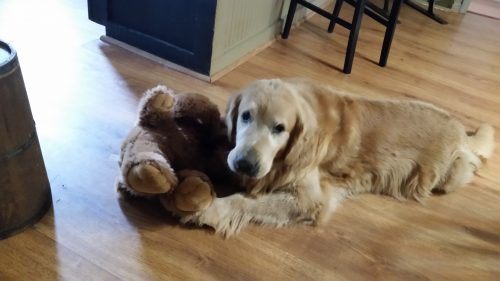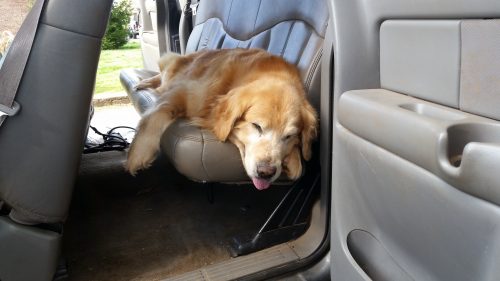 Achievements:
Max was the 2nd Golden we brought into our family. He was quite the clown as a puppy. He loved to ride the carts in Lowes and ride in the trailor on the back of the lawnmower while we cut grass or just a ride in the car to the store. He was the only male in a litter of 11 and grew to be 105 lbs. His coat was thick and soft and he always had that twinkle in his eyes. He loved water, didn't matter if it came out of a hose, a creek in the mountains, a pool in the back yard or on the boat at the lake. He was playing  in it or standing still for you to wet him all over. He always had a toy in his mouth and he loved his boy, my youngest son. Playing he was always quite vocal and always acted like he was 4 months old till the day he passed. I thank God for my time with him, he was a special Pup.

Pedigree of "Maxamillion Gold Smith "

Parents
GrandParents
GreatGrandParents
SIRE

Hilltop Seasons Extravaganza (8-04)     

Ch Gangways Sweeter than Whine (4-99) OFA 25F OFE l58

 Ch Signature's Natural Wonder (9-93) OFA 27G
Faera's Sweet Caroline (6-97) OFA 24G
Birnam Wood's Children At Play (4-01) OFA28G OFE L60
Ch Sunbeam's Cruise Controll (6-98) OFE L48
Ch Goodtimes Raining Comets (1-96) OFA 32G

DAM

Seasons Golden Jubilee (12-02) Ofa A25G OfeL25 Lt

Stylish Season of Samson (6-99) OFA 25G
Ch Lovejoy's Catchme if u cancan (9-95) OFA 24E
Chuckanut Sierra In a sunset (11-97)
Majavin's Sunny day (2-02) OFA 24E
Spyce Mann Benko (2-97)
Majavin's Sweet Suprise (2-99)