International Champion Thevenet Quartermaster General
Sire: Ch. Oliver Twist De Cal Arana
Dam: Quid Pro Quo De Ducado De Espinosa
Whelped: 12/21/2006
Hipps/Excellent Elbows/Normal Heart/Normal Eyes/Normal Ichthyosis/Affected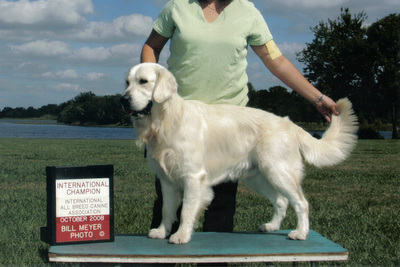 Deuce
is now retired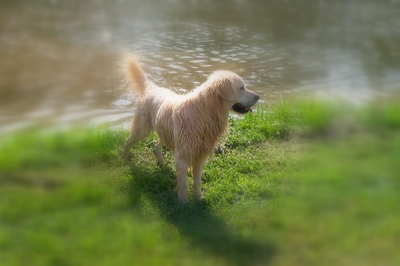 Handsome Devil
Achievements:
This is our future, and what we, as a breeder is what we stand for. We want to provide top quality, multi purpose goldens for show, field, service, therapy and as a greatest dog you will ever own. Deuce comes from a very long and successful line of show and field trials Goldens. He has Spanish and French Champion Lines. Most of which are top producing and show winning dogs all over Europe. He has 33 Champion Dogs in his pedigree including, World Winner '01 , Paudell Pure Passion, Rossmix No Regrets WW 02′, Rossmix Rugger Top Stud Dog 02′, 03′, 04′ and several All Europe Winners. His temperament is great, his obeys outstanding, he has jet black pigment, nice head and great lines. He weights 75 lbs.with a very nice soft coat that is white and wavy. He is a wonderful boy. Thanks to Santi Gadea of The Thevenet Kennels in Barcelona, Spain for this special boy.
K9Data.com: http://www.k9data.com/pedigree.asp?ID=268485
Deuce is available at Stud for approved Bitches
Deuce took part in the 2008 Sunshine Autumn Sieger in Orlando Fla. on Oct. 18th and 19th. He missed the 1st Show, Finished 1st in the 2nd Show on Sat. Sunday he finished 2nd in both Shows. He received 3 V-1 ratings to earn his International Championship. Thanks to the Judges; 
Mrs. Letitia Bett – CAN
Mr. Charles Bett – CAN
Mr. Nelson Huber- USA
Mr. Richard Samide- USA

Ms. Patti L. Smith – USA/UCI (Int'l German License)

Genetic information for Test20445 Oliver/Quid

| | |
| --- | --- |
| 10-generation COI | 7.47% |
| 12-generation COI | 11.50% |

Top 5 ancestors contributing to COI, in order of influence:
Pedigree of "International Champion Thevenet Quartermaster General"

Parents
GrandParents
GreatGrandParents
SIRE

Ch. Oliver Twist De Cal Arana     

Ch. Paudell Pure Passion WW '01

 Ch. Paudell Easter Plantagenet A Kerrin
Kerrien Forever Bonnie At Paudell
Frula De Cal Arana
Ch. Waterloo's Rock Around The Clock
Ch. Quiver Of Glen Sheallag

DAM

Quid Pro Quo De Ducado De Espinosa

Ch.Twenty Seven Charm's Du Domaine Des Rives De L'erdre
Stanroph So It Had To Be
Stanroph Salome
Ch. Soul Music of Glen Sheallag
Ch. Rossmix No Regrets
Ch. New Music Of Glen Sheallag
Gallery for International Champion Thevenet Quartermaster General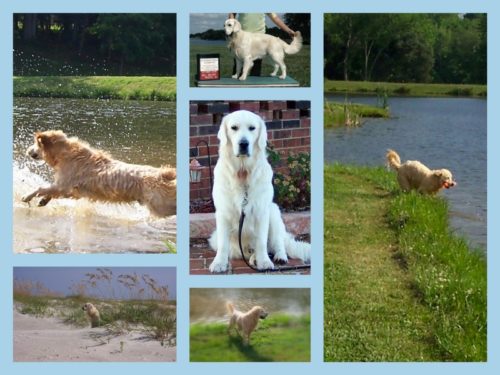 Deuce is a true Golden.